George Custer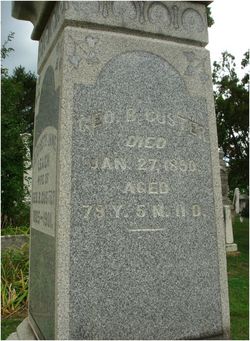 from Biographical Sketches in "History of Fairfield and Perry Counties" compiled by A. A. Graham (1883), p. 292

CUSTER, GEORGE, of Bloom township, emigrated from Washington county, Pennsylvania, in 1830. He was born August 16, 1810, and was married to Miss Sarah Courtright, January 13, 1831. At this wedding eighteen were present, all of whom are dead, save Mr. Custer. After the nuptials, the new couple settled on the farm, at first owned by
Loveland ; afterward by Morehart, then by his father-in-law. After the death of his wife, he married the second time to Miss Elizabeth Jane Leech. She was born May 6, 1825, in Virginia, and is the daughter of John Leech, who emigrated with his family first to Madison township and then to Bloom township, where he died. Mr. Custer was a charter member of the Lithopolis Lodge in 1848, and has been officially connected with that body more or less since that time. In 1832, with sixteen others, joined the Presbyterian society, and afterwards assisted in establishing the church and society in Lithopolis, where he has been an official member fifty years. He is the only one of that number now living, and the only man living in the township who voted in the year 1831, and is the last man living of the original eight who came here in 1831, and who drove hogs to old Baltimore. He has nine children and twenty-six grand children. His children are all members of church, save one, and all married, save the youngest. He built his residence in 1856.

---
Aaron & Sarah (Hoy) Teegardin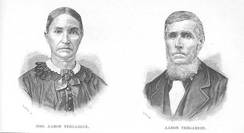 Aaron Teegardin, was born in Franklin Township, Westmoreland county, Pennsylvania, February 23, 1810. When about 1 year of age, his father emigrated, with his family, to Ohio, arriving in Madison township, in April of that year. His father was George Teegardin, and his mother, Christine Brobst Teegardin. On their arrival, Mr. Teegardin located his family on one hundred and sixty acres of land, in section twenty-three. The children of George and Christine Teegardin were: Barbara, John, Ann, Aaron and Mary.
Aaron Teegardin, when a boy, attended such schools as the country then afforded, they being sustained by private subscription. His school education was necessarily very limited, and was mostly confined to a few months during the winter, after he became an age when his help in the necessary work of the farm was valuable. He worked hard, as did even the boys, in those days, at log rolling, raisings, clearing the forest, and raising the necessary food for subsistence, his only recreation being fox hunting, in the winter, and such gatherings of the young people of the neighborhood as took place.
In March, 1883, he was married to Sarah Hoy. After marriage they moved into a hewed-log house, which still stands near the present residence. Here they lived, and here were their children born, who were as follows: Ephraim, who was born December 27, 1934, and was married to Nancy Sharp, and now lives in Miami county, Indiana: Mahala remains at home; Henry was born April 16, 1841 and died August 1863, at Boise City, on the western slope of the Rocky Mountains, where he had gone in search of his fortune in the gold mines; John married Harriet Hoffhine, and lives on section thirty-one; Mary lives at home; Augustus owns property in section seventeen, but lives at home; George Philip married Amelia Hoffhine, and lives on the home farm; Levi married Rosetta Pfleeger, and lives on the home farm; one child, the second, died in infancy.
In 1850 they built their present substantial farm dwelling, near the log house that had for so long been their home. A representation of the home, together with portraits of Mr. and Mrs. Teegardin, appear in connection with this sketch.
Mr. Teegardin was, for more then twenty years, a trustee of his township. During that time the old state militia law was in force, he held the offices of lieutenant, captain, major, in that organization, serving in these different offices some eight to ten years. He also held the office of justice of the peace 1844 to 1847.
He has filled a father's place in his care for the orphaned children of his brothers and sisters, all of whom are now grown to manhood and womanhood.
The Biography and Portrait Sketch's of Aaron & Sarah (Hoy) Teegardin
and their Residential Sketch All Appear Courtesy of:
Mrs. Leona L. Gustafson & "The History of Franklin & Pickaway Counties, Ohio with Illustrations And Biographical Sketches; Some of the Prominent Men and Pioneers" (Williams Bros., 1880)
Which can be found online at:
http://www.genealogybug.net/FrankPic/frank_pick.htm
, page 385
http://www.genealogybug.net/FrankPic/teegardin.htm
Both Aaron & Sarah Teegardin are buried in 2nd Additon Two of Lithopolis Cemetery.
---
Kevin Christner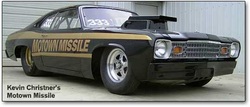 Kevin Christner had worked in construction until an accident left him unable to work at his occupation or to drive; he purchased the historic Motown Missile with a partner, intending to restore and sell it, but found himself spending 25 hour weeks restoring the car, and in the end wouldn't think about selling it. Kevin was impressed with the helpfulness and enthusiasm of the Mopar community, and looked forward to meeting more people on tour.

While Kevin knew little about the Motown Missile and Mopar racing history when he acquired the car, he acquired a great deal of knowledge over time and was always eager to share his information and experiences. His (and his partner's) ideas about selling the car for a million dollars disappeared after he started to match race it, and he ended up buying out his partner and taking the car on the road, re-creating the 1970s' drag scene in front of thousands of spectators.

Kevin had planned to race the Motown Missile against other contemporary Mopar drag cars throughout the summer of 2009 through a series of match races, to raise money for charities.

Born in 1965 in Ohio, he died on January 13, 2009. He is survived by his daughter, fiancée, and step-children. Kevin is interred in the Miller Section of Lithopolis Cemetery.

---
Joseph Olds Gregg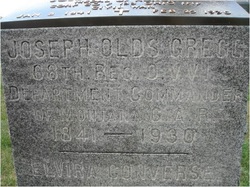 Joseph Olds Gregg was a Civil War veteran who received the Medal of Honor for his actions. He served as a Captain in the Union Army. Captain Gregg was awarded the Congressional Medal of Honor as a Private in Company F, 133d Ohio National Guard Infantry for action on June 16, 1864 near the Richmond and Petersburg Railway, Virginia.

His citation reads "Voluntarily returned to the breastworks, which his regiment had been forced to abandon, to notify three missing companies that the regiment was falling back; found the enemy already in the works, refused a demand to surrender, returning to his command under a concentrated fire, several bullets passing through his hat and clothing.

Following the Civil War, Gregg engaged in the paper manufacturing business in Elkhart, IN, but was forced to go West for his health.

He went to Great Falls, Montana, where he became one of the pioneer builders of that community. Following his retirement from government service he returned to Ohio and resided in Columbus until his death in 1930.

---
The Wagnalls Family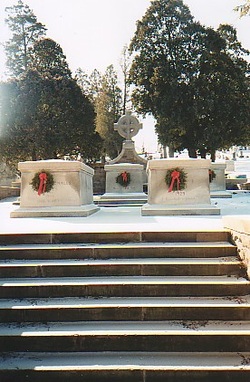 Adam Wagnalls and his wife, Hester Anna Willis Wagnalls, were both born and lived in Lithopolis, OH. Adam moved away at the age of five, but the family's impact on the village is impressive. They had a daughter, Mabel, and the family maintained ties to to the area by frequent visits to family and friends. One of Hester's dreams was to "do something for the little village which had never had anything done for it." Mabel would make this dream come true -- though after her mother's death in 1914 -- by establishing the
Wagnalls Memorial Library
. Mabel also established
The Wagnalls Foundation
in 1925.
Mabel was a concert pianist and was the author of nine books. She died in March of 1946 leaving her estate for the perpetual care of this community center as a living Memorial to her parents. Mabel, her parents, husband and grandmother are buried in the Lithopolis Cemetery
---