Burial Vaults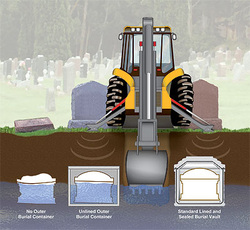 Lithopolis Cemetery requires all casket burials be placed in a burial vault.

A burial vault is a lined and sealed outer receptacle that houses the casket. It protects the casket from the weight of the earth and heavy maintenance equipment that will pass over the grave. It also helps resist water and preserves the beauty of the cemetery by preventing the ground from settling.

Lithopolis Cemetery is pleased to offer Oxford Concrete Lined Vaults to our clients. These are a concrete vault and are lined with high-impact plastic for strength, water resistance and elegance. They are also sealed to provide extra protection for your loved one.

Vaults can be purchase at- or pre-need. The cost is currently $1400.

We also offer a high density plastic urn vaults for cremation burials for $225.
---